Administrator
Forum Administrator
Heyy all
I got this off MiragePerformance.com (with permission from the author, "Merrill" (who owns a custom supercharged turbo 4G15 lancer for those who dont know!)), but it can be related to any car.
Plenty of information about exhaust and sizing and sound and everything else with it. Enjoy!
---------------------------------------------------------------------------------------------------------------------------------------------------------------------------------------------------------
Bit more info on DIY and that
http://merrillperformance.com/download.html
---------------------------------------------------------------------------------------------------------------------------------------------------------------------------------------------------------
The Best Exhaust For Me
Exhaust is really simple and there is no exact pipe size or right/wrong rule when it comes to figuring out exhaust pipe diameter. There are many things to consider and many formulas that I will summarize here.
There are
3
major types of bends that have an effect on flow; Crushed, crinkle, and Mandrel.
Crush bends are formed in a die where the center of the bend radius is literally crushed into a smaller diameter. There are dozens of reasons for doing this but its mostly due to the fact that somethings gotta give and to avoid a kink, this is what will give. A general rule of thumb is 1/4 less diameter than the OD will be its equivalent to flow (eg. 2.5" OD bend = 2.25" OD flow capable).
Crinkle bends are pretty much the same thing as above but they are made with a die that puts multiple folds into the bend radius. This creates a turbulence in the exhaust and prevents a nice smooth flow. The better part of crinkle bends is that they do not affect the diameter of the pipe through the radius as much as the crush bend style.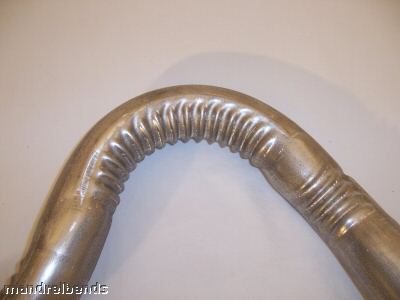 Mandrel bends are created on a different style die to create an unchanged pipe diameter. Throughout the bend radius, the diameter is always the same. This is excellent for performance in that there will always be the smoothest transition and flow possible compared to the other styles. Mandrel bends are also perfect for DIY fabrication because you can cut and mate virtually any angle without the problem of interrupted flow.
In budget performance, a simple crush bend will do just fine and is what people use most often due to the fact that almost all exhaust shops have a crush style pipe bender. A good rule for having an exhaust with the crush style is to + the pipe diameter one size to make the flow capable of what you actually want. So if you think a 2.25" system is perfect flow for your car, use 2.5". When at all possible, use mandrel bends at the size diameter you want. Let me reassure you that there is nothing wrong with using crush bent pipe. If you are serious about performance but working on a tight budget, all you need to do is compensate.
How to choose the right pipe size (general). Without getting into flow formulas and what not, think of the simple rules:
diameter = current mods vs. future mods
. If you have the current mods done to your engine to support having a larger exhaust system then all you have to do is follow a general guideline:
Merrill Performance Exhaust Guide (click here)
Mufflers
A chambered muffler has internal baffles and sections with bulkheads (chambers) filled with baffles and will create a slight back pressure on the system. The baffles also have an effect on tone changes in the exhaust system and often times decrease the decibel level. Internal diameters and flow capabilities are generally matched to their inlet and outlet diameter.
Flow through mufflers do not commonly have any chambers internally and should be intended for higher supporting mods to justify little to no back pressure in the exhaust system. Their tones are created through a metal tube with perforations surrounded by a fiberglass packing material. Some manufacturers even use steel wool for their packing material. Flow through style mufflers do not change the exhaust note dramatically compared to straight pipe and do very little for decibel level decreases.
Negative back pressure mufflers are designed to create a vacuum in the system and "suck" the exhaust gasses out. Negative back pressure styles are not common and are mostly seen in races where the engine is mostly running in the high RPM range. Common designs for negative back pressure style mufflers include a flared opening around the inlet port or use perforations in the bulkhead of the inlet pipe. When the vehicle is in motion at higher speeds, the air enters the opening and creating a Venturi effect which pulls the air from the exhaust. Engines using a negative back pressure style are ones that spend much of their time in the higher RPM range.
Stainless steel tends to be thinner, and as such has a higher pitches resonance. Mild steel is thicker, and has a lower resonance. In laymans terms, the thicker your exhaust material, the deeper the sound. Higher quality brands tend to be thicker, for both pipe and mufflers, and also tend to use denser, higher quality materials.
The Exhaust Note
One thing that every automotive enthusiast is always after is the popular exhaust note. That mean sounding tone that screams dominance on the streets. Many people believe that this note is controlled by the muffler and the muffler only; WRONG! There are many contributing factors that make up a vehicles exhaust note. Engine displacement is a contributing factor as well. Obviously the smaller engines will have a higher pitched note because of the volume pumped through the engine is less. Imagine the sound as a bubble starting from the exhaust runner in the head. As it exist the engine, it is ready to make sudden changes in size and shape (expansion and contraction) resulting in a change in tone. The sound bubble is literally getting reformulated as it travels down the stream. The larger diameter pipe will create a larger boom inside the pipe when the pipe changes diameter from small to large creating a new tone. Keeping that tone locked is the tricky part. An entire book can be written about this but in the end, larger diameter pipe will create a lower tone.
Attaching Sections
There are a few common ways to attach an exhaust section together: they include but are not limited to welding, clamping, flanges with fasteners, V-band, and ID-OD overlapping. The 3 most common in the performance areas are welding, flange with fasteners, and V-band. Here is a simplified comparison:
Welding 2 sections of pipe together is most commonly used but does make it difficult to remove exhaust sections without cutting it apart or removing many vehicle components such as control arms to remove the exhaust as a whole. Direct welding is not recommended if you EVER think you will remove it again for ANY reason.
Flanges with fasteners are the most common method of mating two sections of exhaust. Each flange is welded to the pipe end and fasteners (nuts and bolts) are used to clamp the two sections together with a gasket between them to seal it. Most medium to larger pipe diameter flanges are triangular shaped with 3 holes drilled every 1/3rd of the pipe OD. The only downside to using flanges with fasteners are often having difficulty accessing fasteners for quick removal, and replacing gaskets.
V-band flanges are a self sealing (no gasket required) quick release style mating system that decreases removal time of the exhaust section. The flange ends are round (sightly larger than the pipe diameter) and each flange is shaped in a half 'V'. When mated together, each end of the 'V' is forced together via a V-band clamp. The major benefit to using V-bands are never using a gasket, and being able to pull the exhaust conveniently and quickly due to only needing to loosen one nut on the V-band clamp.
Choose your exhaust system components wisely and also base it off of future intentions. Do not spend lots of money on anything now if you intend on upgrading your engine capabilities in the end (such as turbo, nitrous, internals, etc.). Make sure you are certain about future plans (or as certain as you can be). The reason why is simple - How many times do you want to do the exhaust until it was done right?
~Merrill
www.MerrillPerformance.com
Last edited: